The Chemical bond
Lewis Diagrams
Lewis diagrams are very handy to represent the valence electrons of atoms and molecules.
Valence electrons are represented by dots and they illustrate how to apply the octet rule to predict chemical bonding.
Example 1: The element Na is shown on the left and the corresponding Lewis structure on the right:

Na has only 1 electron in its outer shell, and that is what matters for its chemical behaviour. The Lewis diagram only have to show this electron (represented by the dot).
Example 2: Bromine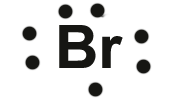 Bromine has 7 electrons in its outer (valence) shell, and that is displayed in its Lewis diagram.
---
Lewis diagrams in covalent bonding
The formation of the hydrogen molecule by 2 hydrogen atoms that have only 1 electron each is represented by:

Bromine, which has 7 electrons in its outer shell, can also form covalent bonds to achieve the ideal configuration of 8 electrons, forming the bromine molecule - Br2:

This way both bromine atoms end up sorrounded by 8 electrons (octet)!
Next, let's see a more complex molecule: carbon dioxide - CO2. Carbon has 4 electrons in its valence shell and oxygen has 6. How can they combine to form an octet?

© Ricardo Esplugas. All images in this site can be bought in an enlarged version. Please contact me on ricardochemistry@gmail.com